Welcome!
Healing Waves, LLC brings you higher states of health and vitality through the application of "new paradigm" healing technologies.
Products
Over the years we have investigated many products. There are some that we have found truly amazing. One of those products is the Biomat.

The Acuscop/Myopulse/Equiscope are amazing products. These products actually deliver what other products only hype about. You will see pain reduction with over a 90% success rate.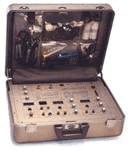 If you would like to know more please contact us.